Do you have what it takes to be a real estate photographer? Are you equipped with the important skills and unmatched creativity to stand out from the others? These are just two of the most frequently asked questions when it comes to out-rivaling competitors in this field. But more than skills and creativity, there's no denying that the choice of camera equipment (and its accessories) is very important especially for aspiring real estate photographers.
The camera supplies and accessories largely depend on the photography niche you are into. Just like in real estate, having the most basic photography equipment could be enough for aspirants. For sure, as you go along with the real estate business system, you could upgrade to better equipment as your skills continuously develop.
Know First What to Avoid
Aspiring photographers accidentally commit errors that could affect the whole project. They are prone to mistakes that would have been checked before. Committing early errors is part of the journey of these beginners.
1. Aspiring real estate photographers could not use lines correctly. They usually converge vertical lines with the horizontal lines, and most of the time, they are not aligned properly.
2. Bad lines result into improperly framed angles that affect the interior shots.
3. The use of one-point and two-point perspective is weak. They sometimes forget to converge one-point perspective on a single vanishing point. Failure to do so makes the real estate image dull and unappealing.
4. Aspiring photographers could not use the contrast, both color and tonal. This is the result of improper use of light and dark tones.
5. Beginners are not aware of the inappropriate use of lighting sources at different temperatures that may result in an imbalanced image.
The Basic Equipment for Aspiring Real Estate Photographers
To surely satisfy clients with stellar images, the possession and the proficient use of photography equipment are basically what an aspiring real estate photographer needs.
1. Best Camera for your Budget
• Consider your budget
• Work with what you have at the moment
• Buy the best camera that's within your budget
Budget is always the usual problem when it comes to acquiring high-quality cameras. There's no need to buy the most expensive gear yet as you are only at the initial stage of your journey as a photographer. Although having your own gear gives every photographer an advantage, you can always work with what you presently have. The camera is the most crucial single equipment needed by every real estate photographer.
Good reads:
How to Choose the Correct Camera Settings For Real Estate Photography
2. Wide Angle Lens
• Use lenses that are around 12-24mm or 10-22mm
• Realistic effect of using wide angle lenses
• Avoid converging vertical lines
• Make tiny spaces look spacious
As important as the camera, choosing a wide-angle lens is very advantageous when it comes to real estate photography. Using a wide-angle lens like 12-24mm or the 10-22 mm camera will let you shoot the whole perspective of the shot especially when shooting the interiors of a room. One of the effects using a wide-angle lens to the viewer is that it makes him feel that he is actually inside that room because wide angle lenses make small spaces look vast and spacious. Tilt-shift lenses can support you in preventing vertical lines to converge.
3. Effective Tripod for Real Estate
• An indispensable gear
• Keeping shots at camera level
• Avoids camera to shake when shooting in low light
In real estate photography, the tripod is an indispensable partner. It always keeps the shot at camera level. In buying the tripod for your camera, consider how long and how high it will go. Make sure that the tripod you are going to use doesn't move the tiniest motion when the shutter is pressed. This will ruin everything.
4. Filters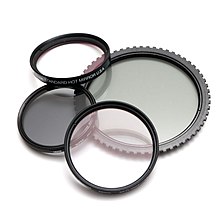 • Protects lenses from damage
• Reduce haze
• Enhance color saturation
• Reduce reflection
• Wider apertures can be used
• Balance exposures
There are still a number of fascinating reasons why old school photography filters are very important in real estate. Filters are special camera glasses that can be used by aspiring real estate photographers to produce sensational effects. Camera glasses like the Skylight or UV Filter protect the lenses from dust, dirt, droplets, or any particulate that can damage the camera lenses. This type of filter can also reduce haze.
To enhance color saturation and reduce reflections, a polarizer must be used. An aspiring real estate photographer can also bring with him the Neutral Density Filter to enable him to use wider aperture. The Graduated Neutral Density Filter is used to balance exposures between two contrasting elements in real estate – a bright background with a dark foreground.
Resource: