Professional real estate photographers are growing in numbers very fast because of the increased interest of many people in the real estate industry niche. Adobe Lightroom, considered by most editors as the most popular post-processing tool, is an excellent aid in creating high quality photos and videos in just clicks of fingers. It consists of a long list of plugins and presets that can help save a lot of time in the post-production tasks.
Lightroom is a very important retouching tool. This software is filled basically with great features that can make every editor's life easier. This app is for everyone to enjoy – from ordinary people working at home, to students finishing their projects from their respective subjects, down to office workers who need to submit reports to their boss. In general, Lightroom is for everybody. The moment you learn how to manipulate and apply these excellent features, you can do countless editing of different photos the way you like them to become.
Enhance your Photos in No Time: 60 Second Tips in Using Lightroom
1. Adding a Lightening Background
If you want to add a lightening background, click the   in the Develop section, select the size of the Brush (Brush A is preferable), add a Feather, and enable Auto. You also need to set the Density to 100 to start painting the background with the chosen Brush.
You can decrease the density to 30 because you need to select the background and check which part is partially painted. You can eventually go to 100% density to finish the background.
2. Straighten a Kinked Horizon
This technique is about recreating the horizon of a photo straight. Frankly, it is very hard to avoid shooting uneven lines. Straightening these lines using Lightroom is an easy trick. Locate Crop Overlay by clicking its icon or simply pressing R on the keyboard. You can also opt to use Auto straightening function. This will automatically level crooked horizons.
3. Straighten Crop Orientation
There's this secret cropping tip on how to straighten crop orientation using Lightroom. In Crop mode, just press X and everything will proceed to crop orientation automatically. If it is horizontally oriented, this tool will make it vertical. On the other hand, if it's vertical, crop orientation mode will turn it into horizontal.
4. Make use of the Transform Tool
Transform Tool is a feature in Lighthouse where it corrects distorted horizontal and vertical lines, and change the perspectives or anything that needs to be straightened. Scrolling down to Transform Tool, you can just choose whether it is vertical or horizontal lines that you want to be corrected. This is a perfect tool to make lines symmetrical to each other.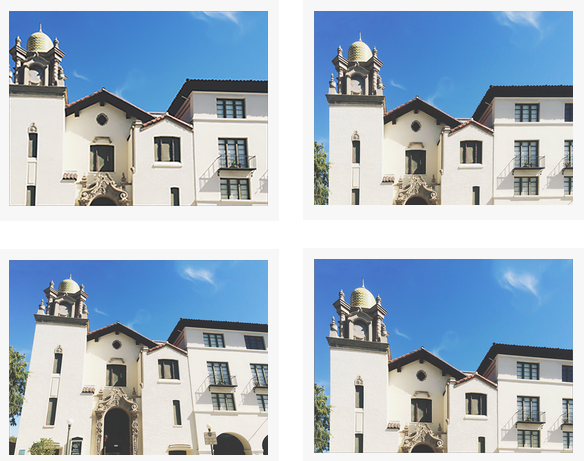 5. View Photos in Different Modes
You can follow these keyboard shortcuts to view photos in different modes using Lightroom.
Grid view (press G) – displays all your images as thumbnails at the center
Loupe view (press E) – seeing image to look something bigger
Side Panel Removal (press Tab) – this is a shortcut to hide panels from Lightroom
Lights Out (press L) – consider this shortcut to dim the lights
Full Screen (press F) – to view the largest possible image on the computer screen, pressing F is your only choice
Survey View (press N) – to view specific images together, Survey View Mode is the answer
6. Bringing Panels back to the Screen
This feature is similar to photo isolation. Here you need to click the Develop module and you want to have your left side bar show its presets. You need to hit the Tab bar and the left side of the screen will show all its presets. To close both the left and right bar, just hit the Tab once again and the photo will be shown against the same background that you set.
Also, if you think you lost your panels forever, they are not gone at all. They are just hidden somewhere. To show them again, you can easily do this in a lightning mode, so to speak. You can do right-clicking over one of the panels that are visible. All you need is to create a small drop-down menu and click on the one that is missing!
Another trick is through the main menu at the top of Lightroom. You can click on Window, proceed to Panels, and click the panel that you want to see. Missing panels will quickly reappear.
7. Slider Adjustment
To make small adjustment to the sliders, all you need to do is to bring your curser to the slider and go to the Up and Down Arrow Key. If you want to make higher increments of adjustment, press Shift + Up and Down Arrow Key.
There are also different ways to move sliders in Lightroom. You can use the mouse for handling and dragging. By clicking the slider ramp together with the handle, it will go to the destination you clicked on. To enter a value, just click on the text-entry portion. You can also hover the cursor and use the plus and minus keys.