If you have zero knowledge in editing photos for your real estate business, Adobe Photoshop CC can help you acquire basic editing skills and tools such as Photoshop, brushes, navigation, and selection. Some of the skills you will learn include improving image quality, using special effects, retouching photos, and editing images using Camera Raw.
So if you're ready to explore this beginner-friendly photo editing tool, read this guide.
What You Need to Edit Photos
The photo editing essentials you need to have before you start learning how to use Adobe Photoshop CC are the following:
A Macbook, personal computer, or a laptop.
Adobe Photoshop CC software.
Eagerness to learn this new skill.
How to Use Adobe Photoshop CC for Beginners
Here's a step-by-step guide on how to use Adobe Photoshop CC software to edit your real estate photos:
1. Download the Adobe Photoshop Creative Cloud.
Assuming you already have your computer set up to download the Adobe Photoshop CC, the first step is to download the software.
References Below:
2. Open up canvas and edit.
To open a canvas, click on the FILE button then go to "New". The page layout or canvas must be in your preferred size. The recommended resolution for standard canvas is 300. Once you have already opened the application, make sure to save your layout.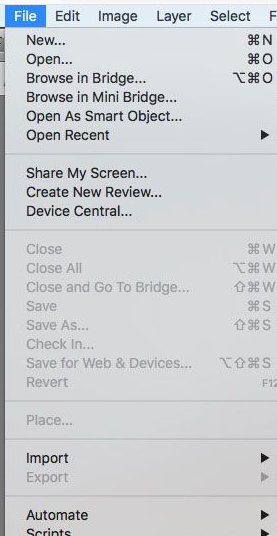 You can use a large drive to save your real estate projects. If you want to ensure you got everything saved to avoid corrupted files, a backup drive is the best solution. Remember, Photoshop or psd files require large memory.
3. Preview your page layout.
To make sure your work is ready for saving, you need to preview your canvas. That way, you can see areas that still need further editing or require some changes to make them look even better.
4. Check out the essential tools.
In your tool box, there are plenty of things you can use to improve the overall appeal of your real estate images. You can find this on your screen's left side. It's important to understand how these tools work in order to take advantage of their special features when editing photos. Perhaps, you need to be more familiar with the Click tool.
5. Explore the folders, grouping, and colors setting.
On your screen, check the right side to see the artwork and file storage settings. You will also find a wide range of colors including figures and shapes on that side. The Layer setting is available for adjusting images while keeping your layout separate in the artwork.
You can rearrange the layers to properly position images in front or behind other images. Again, don't forget to click "Save" to make sure the actions you've made are saved.
6. Unlock background layers.
A locked layer will show a lock symbol. If you want to unlock it, then you need to double click on the layer until a new layer appears on your screen. To avoid getting confused, name your files while adding more layers on your canvas. If you want to add more layers, right click on the layer and then "Duplicate Layer or New Layer".
7. Familiarize the layers.
When editing a project, you need to use multiple layers in order to separate colors, background, or circle. This makes editing much easier and manageable. In the setting, the top layer is automatically in front of other layers. Don't worry because the layers can be moved according to the order you want.
8. Make your circle.
Select a layer by clicking on it. From the Edit tab, go to Stroke and then Stroke Pixel to change the colors on your foreground or background. On that layer, click on the Edit and then scroll down in order to fill it with your preferred color. Click OK and see if the shape looks like a circle before you can click select and deselect.
9. Choose a second new layer.
Choose a new layer and name it if you want. Select the gradient in your tool box, but there are other options you can choose if you want to create more colors at a specific angle. After creating a gradient, don't forget to click Save. After that, you can work on another background.
10. Create a more interesting layout.
Once you have created your folders and arranged them in proper order, it's time to stylize your masterpiece. Take the file in which you set gradient to and then right click to duplicate layer. It's important to duplicate the layer so that you can easily remove any styling options when needed.
For some layers that are not in use, go to the duplicate layer and then click on the Eye symbol. Click Filter at the top of the screen to search for styling options. Save your work once you're done.
Conclusion:
If you're just beginning to learn how to use Adobe Photoshop CC in editing your images, these basic steps are helpful. However, there are so many ways you can use this editing software in order to achieve the exact design you need for your real estate projects.
This simple guide provides the basic editing skills you can learn from using Adobe Photoshop CC program—the perfect solution for beginners.
For real estate photo editing services, please visit this link.
Featured photo credit: https://colorlib.com/wp/free-photoshop-actions/