A real estate video is a great material to showcase a property, and if you're planning to list one, this is one of the most effective ways to please your ever-changing, hard-to-please market. Real estate is as cut-throat as you expect it to be, especially with people getting busier and digital more than ever. A 2-minute video is enough for an interested buyer to get a feel of your home, just like they're having a walk-through minus the hassle. However, not all videos are created equal.
Real estate video editing—no matter how "common"—is pure talent, and an outcome depends on how good or not your video was created. Everyone may be able to cut or import music, but it takes creativity plus an immense amount of particularity & patience to make an impactful 2-min real estate video (or any kind of video for that matter). 
To give you an idea, here's a step by step process when creating a real estate video.
Color Grading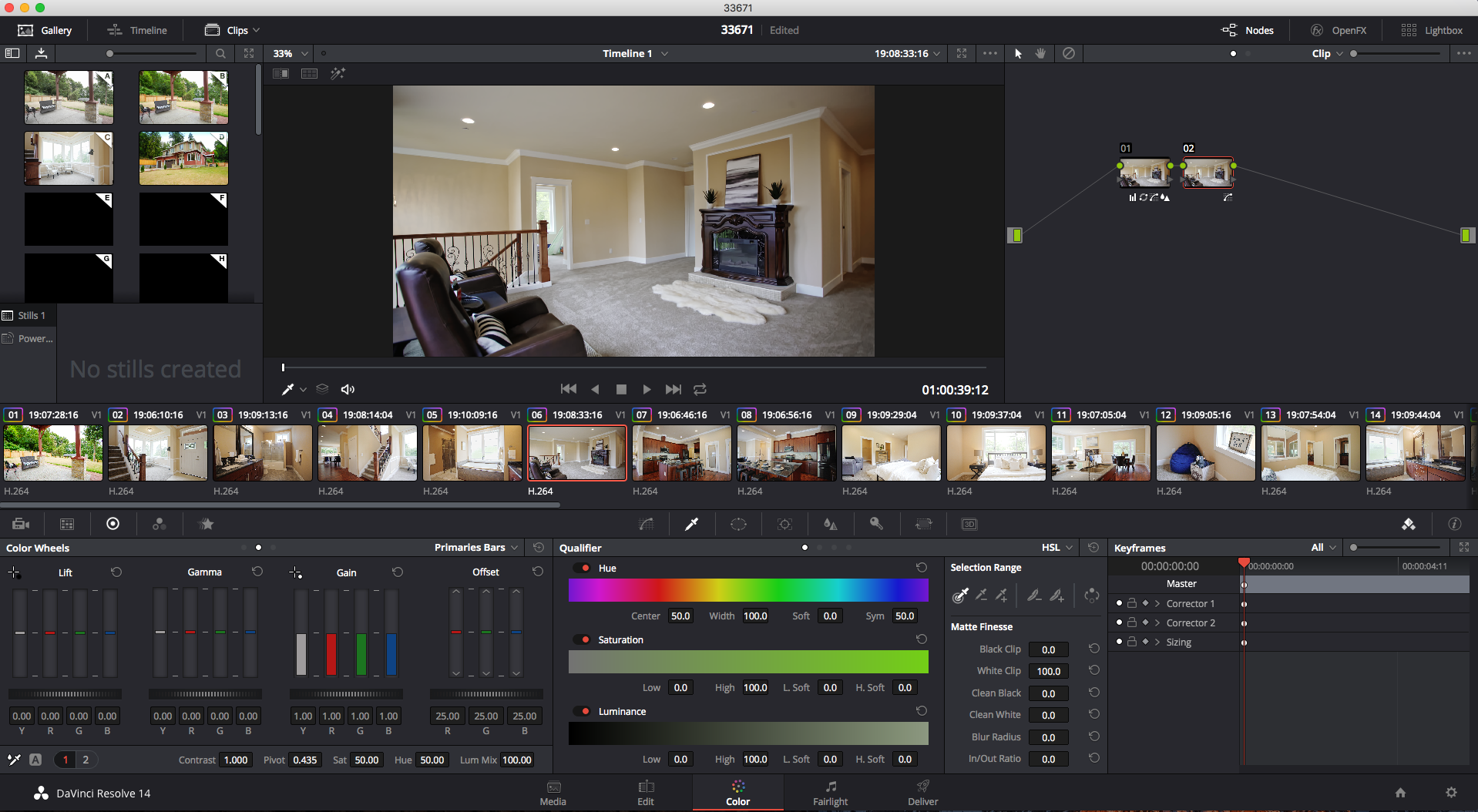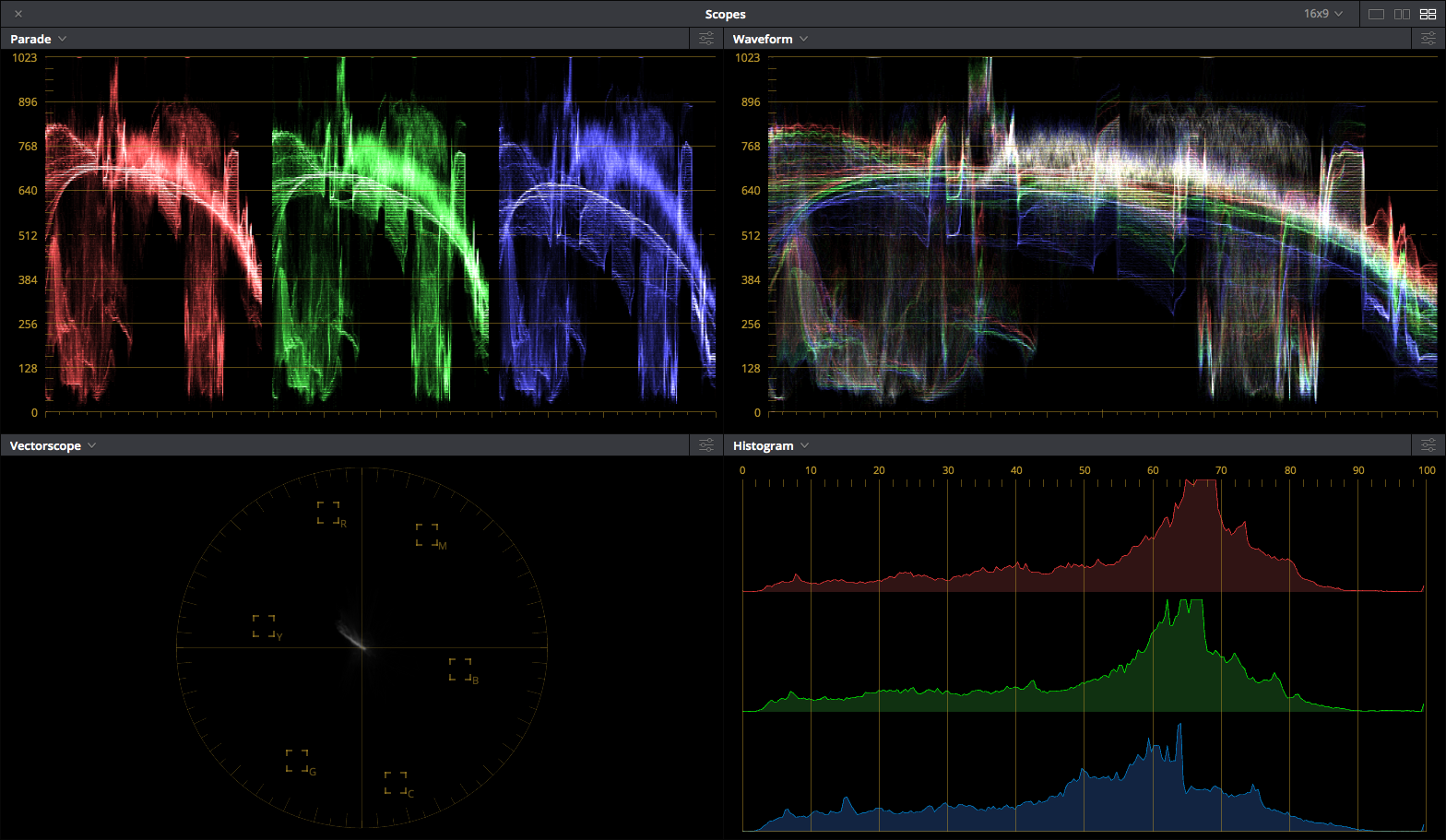 Color affects mood. Getting a positive response from a client depends on how your property looks and feel on your video. Granted that proper lighting is important, achieving the right color grade can do so much.  At this stage, colors will be enhanced by adjusting RGBs, saturation, and hues.
We prefer to use the DaVinci Resolve software to color grade videos. With its color matching, primary color adjustment, secondary color adjustment, LUT support, and HSL curve abilities, guaranteed your property will look attractive. The software's video scopes also helps in ensuring the colors are balanced accordingly.
Music Selection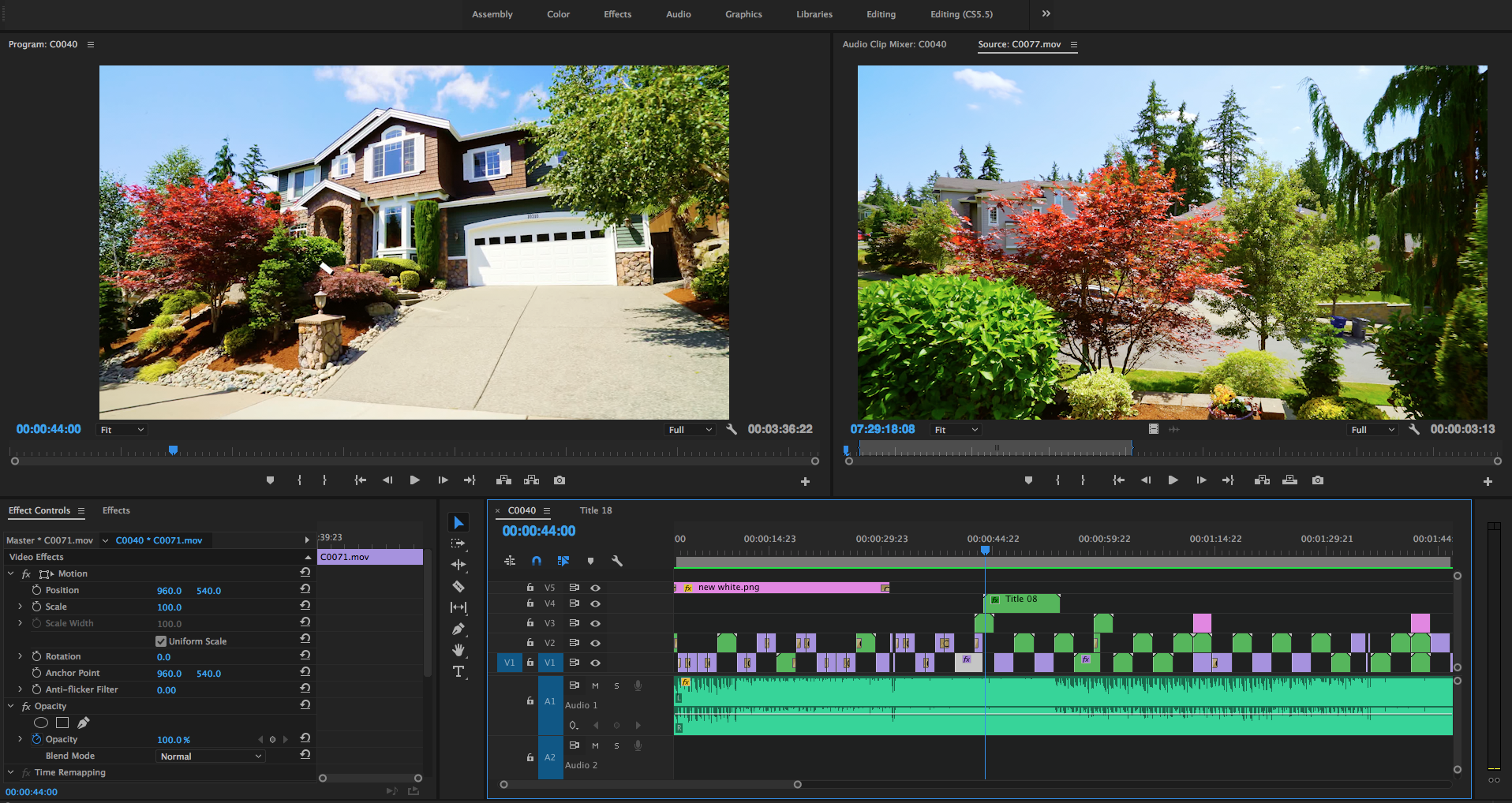 Just as color grading makes your property look visually appealing, music will add excitement and personality. You can make your property appear fun and cozy, or luxurious and majestic depending on the audio you chose to go with your video. It is crucial to find the right audio. One common mistake is thinking that audio is just an afterthought of your visuals; no, both goes hand in hand.  
In addition to that, if you want have the best music possible, you must be willing to spend a little money. Make sure it's copyright clear, and obviously of good quality.  Good music is everything.
Cutting and Transition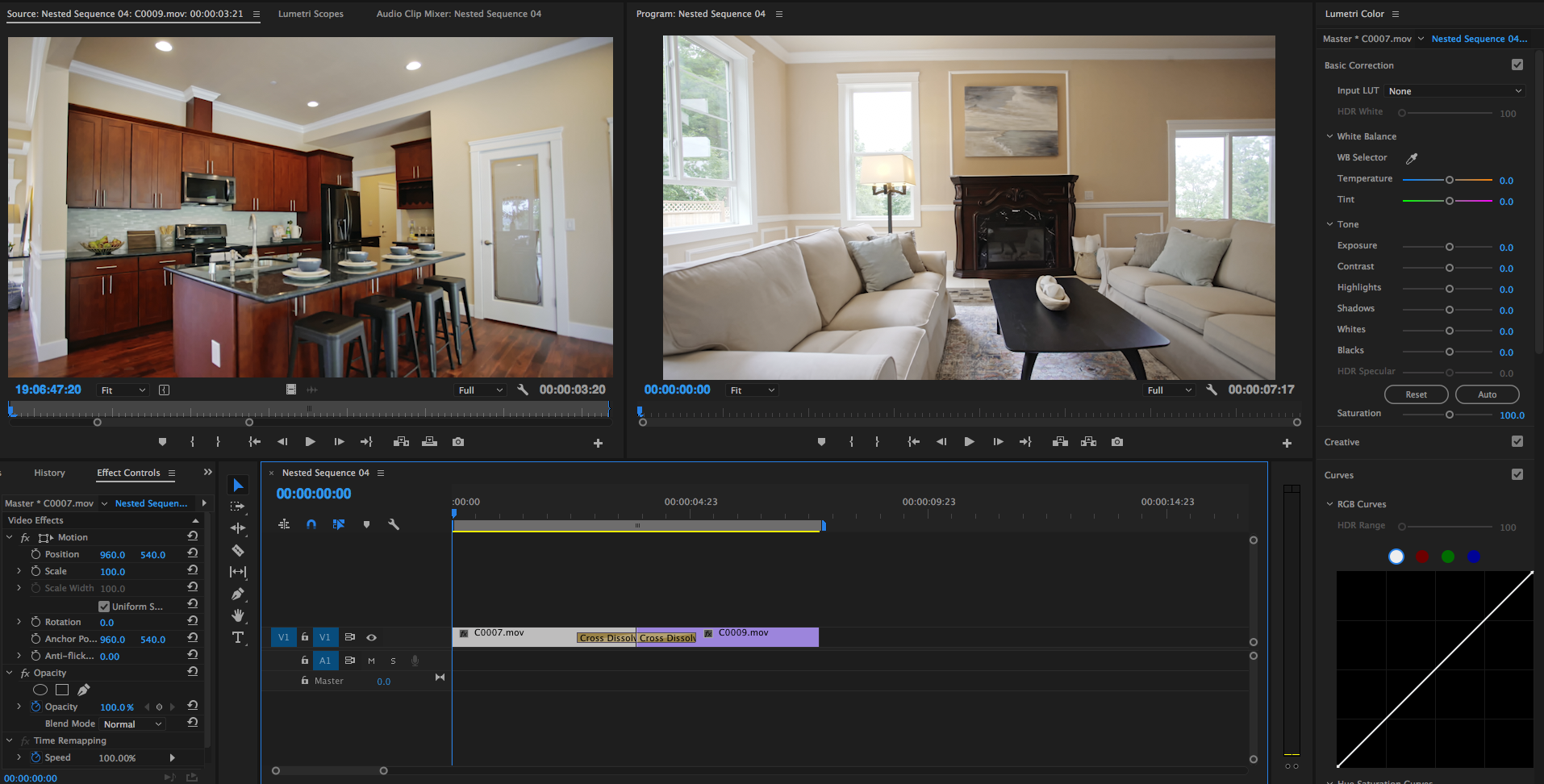 There are a lot of techniques in video cutting and transition, but because we're in real estate videography, our choices are a bit streamlined. The simple cut is the most basic technique in video transition, it will give your video a clean and professional look. You'll simply select a clip, drop it in the timeline, drag it up to the previous clip (make sure there's no gap in between), and that's it!
A cross-dissolve transition is a useful transitional editing technique as well that shows/represents passage of time. All you have to do is put your clips up against one another, find the cross-dissolve effect and drag it on over your cut. Don't overuse it though!
More so, be mindful of your transitions and audio, both has to be in sync or your video will look all over the place and awkward. The Adobe Premiere Pro is a powerful tool for this step, not to mention versatile and adaptable.
Animated Effects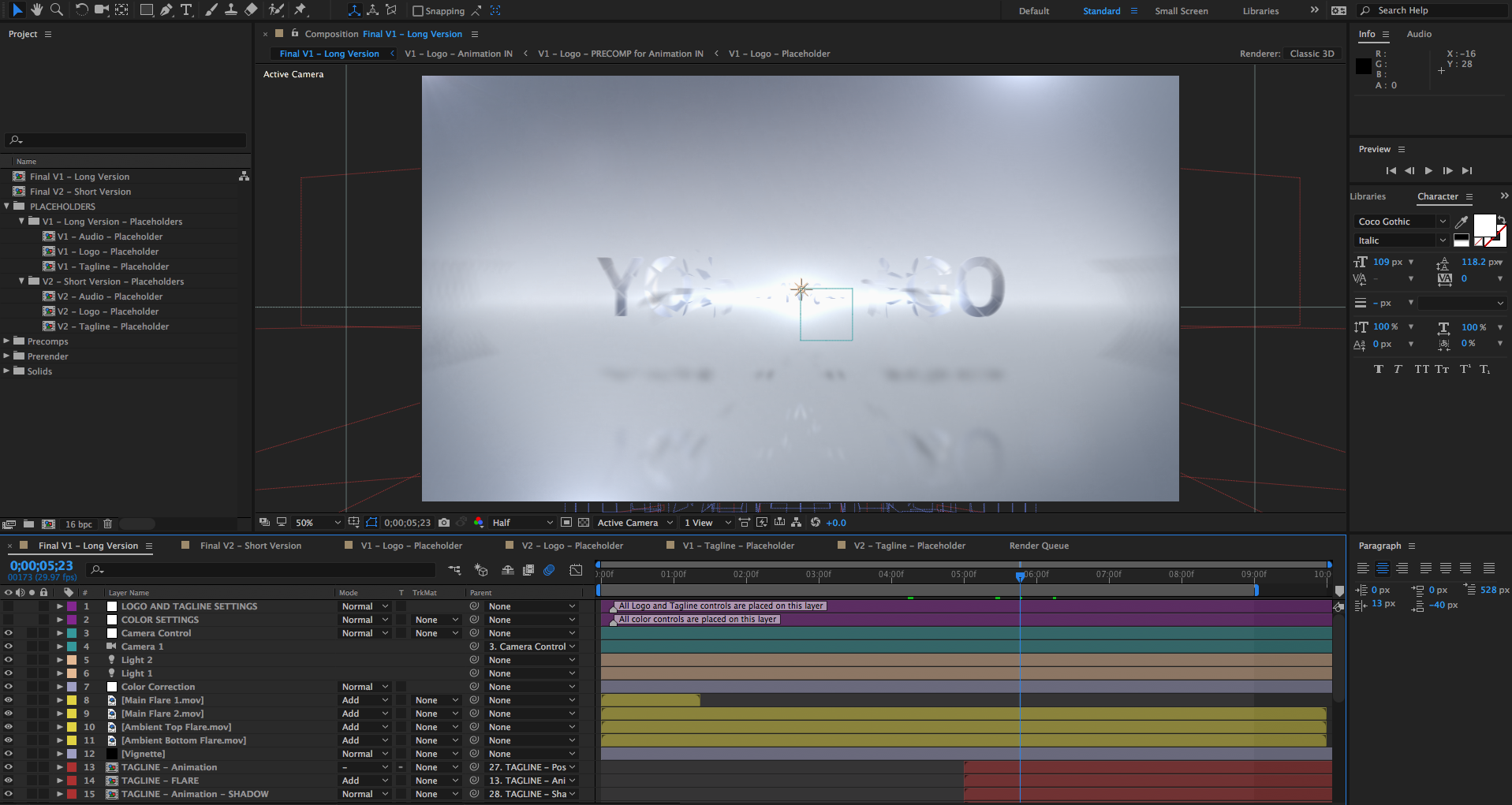 It's no secret: animation is luxury. It's a sophisticated addition to your video, that needs a sophisticated software—Adobe After Effects. This tool allows you to imbed information about your property within your video in a very creative manner. It could be a small description about your property including labels, price, address, size. If you are promoting your brand, animation is a great effect to add on your video.
---
Curious on how we applied all these steps? Below is a real estate video we created! I dare you not to get attached with this property (and its horses).