Having the best images is one of the main factors that make the real estate industry going. There has been a constant photo demand from realtors and clients, which is why real estate photographers and editors are also busy trying to produce the best outputs.
If you expect to get compelling photos, you need to invest in a high-quality camera like a DSLR or a mirrorless one, a subscription for editing software like Photoshop, and other equipment required during the shoot like reflectors, tripods, and microphones (for real estate videos).
However, realtors do not always have enough time and resources to produce studio retouched pictures. They can still use their phone in capturing the images, but how about the editing part? This is when photo editing apps become relevant.
With photo editing applications, there is no need to worry about the images' quality after the post-processing stages. Even if a skilled photo editor does not manually edit it, you can be at ease knowing that your real estate images will still look stunning.
Here is a list of the top four most used real estate photo editing apps used by real estate agents.
1. Phixer Mobile
From the number one real estate photo editing company, Phixer Mobile lets you save money without sacrificing the need for quality real estate images. Just take photos with your phone and let the Phixer team edit them. With this set-up, you are assured of a fast and affordable way to take your existing images into the next photo retouching level.
Expect gorgeous outputs that stand out in the crowd in eight hours or less with just three simple steps:
Take real estate images using your phone
Select your preferred editing style
Wait and receive your high-quality images
Phixer Mobile gives you affordable rates with guaranteed quality images managed by Phixer's skilled editors in terms of pricing.
Benefits
Increased sales
More marketing materials, both offline and online
No need to worry about admin work
Pricing: Try Phixer Mobile using your 10 FREE photo credits.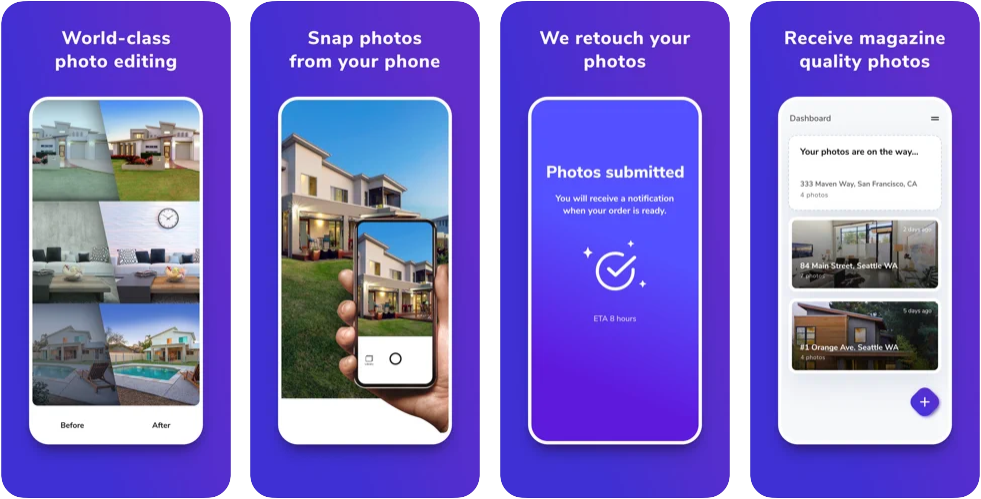 DOWNLOAD PHIXER MOBILE ON IOS
DOWNLOAD PHIXER MOBILE ON OFFICIAL WEBSITE
2. Snapseed
If you are looking for an app that can do precise editing in brightness, contrast, color, and exposure, Snapseed is the right app for you. It is easy to use and has several features available such as the following:
Double exposure
Text tool
Cropping and perspective adjustments
Lens blur and vignettes
Photo exposure, color, and sharpness adjustment
Healing tools, brushes, and selective adjustments
Black and white filters
Pricing: Snapseed is available for free and can be downloaded on both android and iOS.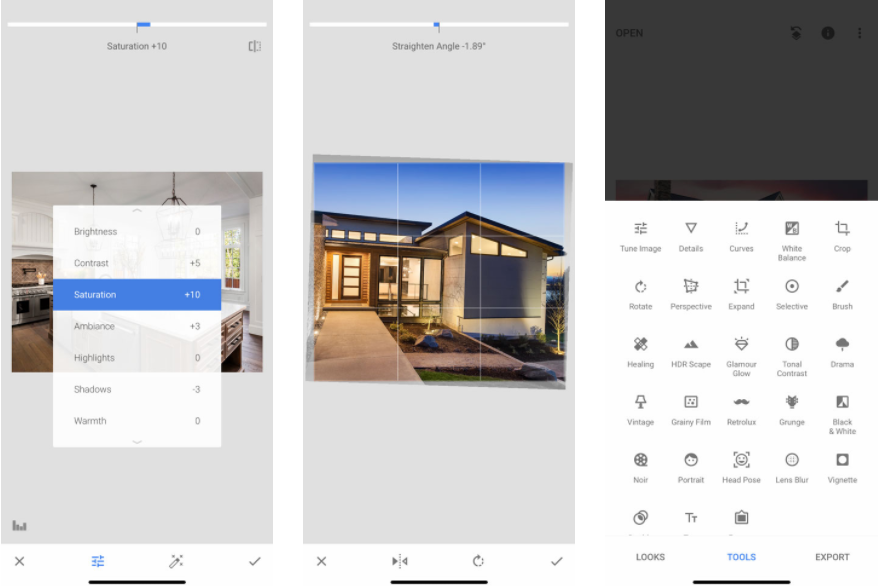 DOWNLOAD SNAPSEED FOR IOS
DOWNLOAD SNAPSEED FOR ANDROID
3. VSCO
Another popular photo editing app is VSCO, an easy-to-use application with over 130 filters presets. It is best for improving the color, exposure, and sharpness of images without making them look unnatural.
VSCO is also known as a cropping tool with an app camera available for additional manual controls. It is also a sharing platform with a "creator-first" philosophy that engages users, like Instagram. With VSCO, you can edit real estate images without overpowering the filters as seen on the final images. Its subtle effects make it an ideal photo editing app for realtors who want to use photos that create striking impressions.
Pricing: VSCO can be used for free, but all of its filters will be available only if you have an annual subscription of $19.99.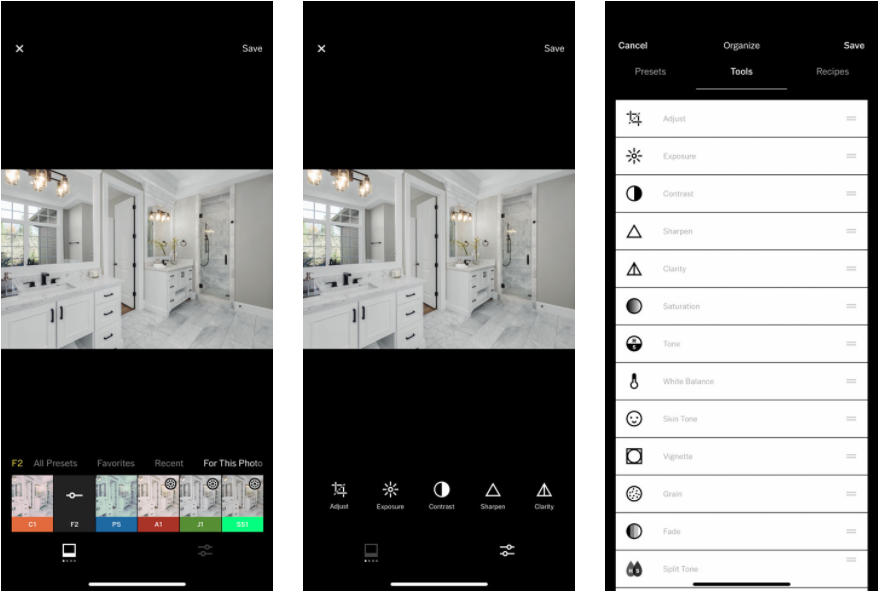 DOWNLOAD VSCO FOR IOS
DOWNLOAD VSCO FOR ANDROID
4. TouchRetouch
This app is perfect for removing unwanted elements in images and give them a clean look. It is best known to have this high-quality object removal of unnecessary people and photo bombers, power lines, distorted image details, and any distractions from your photo.
Moreover, you can use it in removing blemishes from faces. Yet, with real estate images editing,  it is best to use the other editing tools such as the brush and lasso tools to get the perfect selection, correct or remove lines and duplicate some parts of the image using the stamp tool.
Pricing: TouchRetouch has a minimal fee of $1.99 and is downloadable on Android and iOS.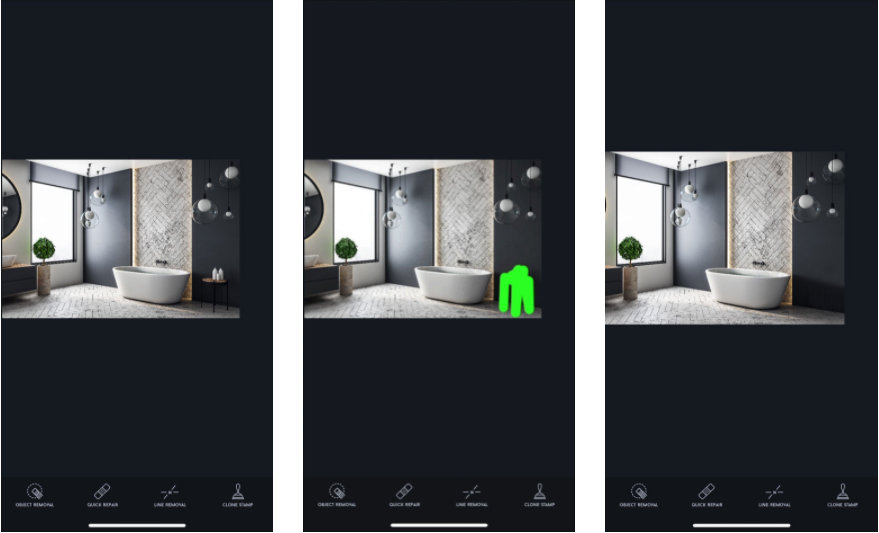 DOWNLOAD TOUCHRETOUCH FOR IOS
DOWNLOAD TOUCHRETOUCH FOR ANDROID
These are only four of the known photo editing apps available in the market today and by far, Phixer is the only app that solely focuses on real estate editing. Which one do you think suits your need this time? We recommend you check and try each option before choosing your best bet. Keep up and be a rockstar real estate agent soon!